Whole Meeting Room/Video Conferencing Solution Case Study
Client – West Herts College
We installed comprehensive video conference solutions across all 3 campuses of West Herts College, including Watford Campus, Hemel Hempstead Campus and Barnfield Campuses. Please read on for full details in this Video Conferencing Solution Case Study of West Herts College.
They initially asked us to fit out the board room of their Watford Campus and were so happy with the results, that they decided to roll out the solution in the board rooms of their other sites.
Scope of Works
We carried out the supply and installation of 1 x 75" Iiyama Interactive Panel into the College's board room which was installed in the location of the current screen.
This solution incorporated a Logitech Meet Up video conferencing solution which was fed to a static PC within the existing cabinet. We also supplied a Ben-Q Insta-Show wireless presentation solution. The PC and other source input solutions, provided by the college, as well as a new Ben-Q Insta-Show wireless presentation solution was inputted into a new Atlona HDMI auto switch.
Four ceiling mounted speakers were installed within the board room. These were run back to a new mixer amplifier in the existing cabinet. This was be fed from the audio output of the HDMI switch allowing the user to output audio to the new audio solution directly from the source being used on the screen.
A HDMI input plate was presented on the Dado trunking near the existing cabinet location allowing direct hard-wired connectivity to the screen/audio solution.
The total duration of the installation of each video conference solution was 1 day.
Iiyama Pro Lite Interactive 20 point Touch Panel Screen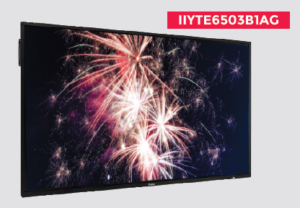 75″ interactive 4K UHD LCD Touchscreen with integrated annotation software.
A perfect solution for educational and corporate use. The 75'' infrared 20-point touchscreen with iiWare 8.0 (Android OS) featuring Note, web browser, file manager, cloud drives, WPS office and ScreenSharePro. It comes with dual touch pens, allowing users to annotate easily in 4K on files and on-screen content, which can be saved directly on a USB device, 32gig internal memory or on a connected cloud drive. The display supports playback of presentations, high-resolution video and almost any other type of content.
The high-quality commercial IPS LCD screen with 4K UHD resolution (3840 x 2160 – 8.3 megapixel), 350cd/m2 and a contrast ratio of 1200:1 provides vibrant, detailed and high-quality images from anywhere in the class- or meeting room. The anti-glare coating drastically reduces ambient reflection in high-brightness environments without compromising the sharpness and clarity of the image. The screen is equipped with an all-metal bezel and 4mm thick hardened glass to ensure long durability in high-use environments, such as classrooms or meeting rooms.
Share, stream and edit content from any device directly on screen and transform your team meetings or lessons into an easy, fast and seamless interactive session with the included WiFi module (OWM001) and the ScreenSharePro app.
Logitech Meet Up Solution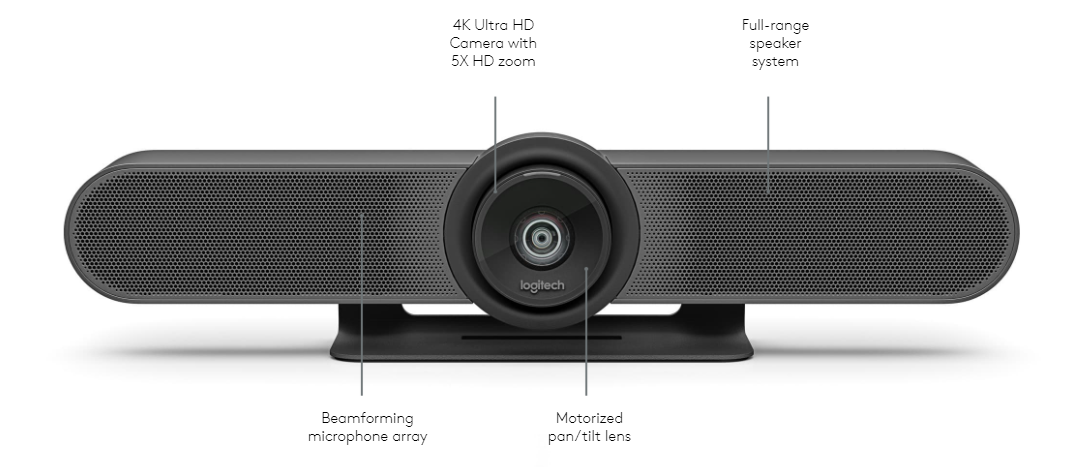 By offering the widest field of view of any Logitech video conferencing solution, MeetUp allows everyone in the room to be seen, even those close to the camera or seated at the edges of the room.
· The camera supports multiple resolutions, including 4K (ultra HD), 1080p (Full HD) and 720p (HD) to best support the quality offered by your application and monitor.
· Three broadside beamforming, omnidirectional microphones with noise and echo cancellation – plus a custom-tuned speaker – are specifically optimized for small conference rooms.
· Mics are Microsoft Cortana certified for precision with voice commands with any Windows 10 system.
· The compact all-in-one form factor takes up less space and minimizes cable clutter
· Advanced Logitech lens technology delivers remarkable video quality with superb resolution, fluidity and detail ensuring face-to-face collaboration is the next best thing to physically being there.
Ben-Q Insta Show Wireless Presentation System HDMI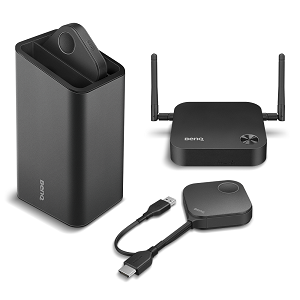 InstaShow™ Plug & Play – One Button to Start Full HD Wireless Presentations
BenQ's InstaShow™ WDC10 is a unique no-software solution that allows multiple presenters to lead from any device.
The plug and play operation require no driver installation and is compatible with any OS or hardware platform*, making it simple to use.
It works via a direct wireless connection between the users laptop and the screen, which removes the reliance on cables and the building's wireless network.
Atlona AT-UHD-SW-51 HDMI Switcher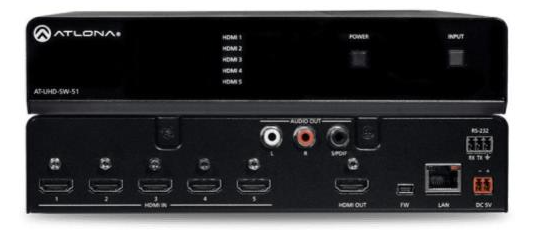 A HDMI Switcher auto switches HDMI inputs, removing the need for a user to use a remote control to switch over the source input to the screen. It is not necessary to incorporate this equipment into the video conference solution but on this occasion, the customer wanted to utilise it's capacity to automatically pick up on the source being used.
The Atlona AT-UHD-SW-51 is a 5×1 HDMI switcher with auto-switching and advanced control capability. The switcher supports 4K/UHD @ 60 Hz with 4:2:0 color, offers 3D pass-through, and 10.2 Gbps bandwidth. With front panel buttons and IR control, it can be a standalone switcher. Designed as a cost-effective, easy to install solution, the switcher offers a web-based GUI for easy set-up and management of EDID and HDCP.
Additional control options include auto-switching, front panel selector, and compatibility with RS-232 or TCP/IP-based control systems. Audio features include de-embedding of PCM audio over HDMI to either S/PDIF or two-channel analog audio outputs; pass-through of Dolby TrueHD and DTS-HD Master Audio; plus an Audio Return Channel feed to the S/PDIF output from the HDMI display. The compact, 1U, half-rack width enclosure is easily installed in rack mounted systems with the optional 19" rack mount brackets. Two units can be mounted side-by-side.
Ceiling Mounted Speakers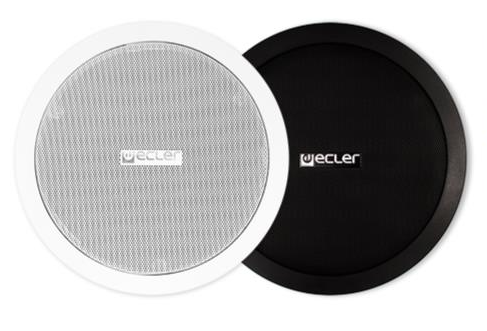 We installed these overhead Ecler speakers, at the request of the client, to reinforce the sound so that it would be closer to the delegates at the rear of the room.
ECLER IC6 2-way loudspeaker is the perfect option for 70/100 V and low impedance sound solutions. It mounts a 6" woofer and a 1″ tweeter in a discreet design.
IC series provides excellent sound quality thanks to their infinite baffle philosophy and a top-performance high frequency transducer.
---
"Absolutely Fantastic! We were blown away by how clear the sound was right at the back of the room! We want to roll it out to all of our other campuses."

Mary Hinks, West Herts College
< BACK TO CASE STUDIES