How can a CCTV surveillance system benefit your business?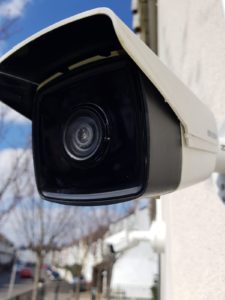 Did you know that most people think that CCTV is only beneficial when it comes to deterring would-be criminals? Whilst this is a major benefit of a CCTV surveillance system, there are many more benefits to your business than you might think.
These benefits include;
Saving money and reducing risk
Deterring crime
Keeping real-time watch on activities going on around your premises
Collecting evidence and keeping records
Encouraging consistency with your employees and good behaviour from students
Resolving disputes
Reduction of risk and saving money
The very nature of CCTV security systems and the way they provide constant view of your property and real-time recording means that inevitably, unfortunate situations happen less frequently. More often than not, properties with visible CCTV would be less likely to be targeted by criminals and so would be save a business the potential loss of assets. As a result, the business would save a significant amount of money and inconvenience.
Crime deterrence
As mentioned above, the presence of a CCTV surveillance system is likely to deter criminals from targeting the building. Cameras in plain sight (installed out of reach of criminals), will often prevent damage and intrusion to the premises. Failing to install a camera is the same as inviting a criminal to come and cause harm to your building and it's contents.
Keeping real-time watch on activities going on around your building
Monitoring your building in real-time will allow you to keep a close eye on everything that's going on in and around your property. This provides you with peace of mind in knowing that everything is as it should be; staff and visitors are safe and so is your property. If you have more than five or six cameras installed, it's not going to be practical to view each one of them at once. Most people don't want to do that anyway. The main cameras which should be installed at the main entrances to your building are the ones that are going to be the most beneficial in monitoring. You can do this in two ways with IP (Internet Protocol – meaning you can access from the internet) CCTV. The first is that you can watch the live feed of your cameras through Google by inputting the IP address of your cameras or your NVR (network video recorder). The second way is that you can access the footage through the server which your NVR will be linked to. Either way, it is going to give you peace of mind that you can monitor the footage from your PC, laptop or mobile device.
Collection of evidence and the maintenance of records
In the event of a crime, having CCTV surveillance is extremely useful when it comes to collecting evidence. It can then be handed to police and will hopefully prevent further intrusions from happening. In addition, CCTV provides a method for keeping records of basic things which can be helpful to a business owner, such as arrivals and departures of visitors and staff. One of the biggest inconveniences to businesses is when deliveries are mislaid. So CCTV is particularly useful in tracing deliveries.
Encouragement of consistency among your employees and good behaviour from students
Whilst faith and trust in our staff is obviously the foundation of a productive and healthy employer-employee relationship, the presence of monitoring and surveillance cameras can help to encourage good behaviour among the workforce and the students, if you are in a school or other education setting . If cameras are installed inside the property, this can also deter certain staff members from any wrong-doings. Making sure that health and safety procedures are being adhered to is another added benefit of CCTV Surveillance.
Resolution of disputes
Quite often, disagreements can occur and it can be difficult to ascertain who is at fault. If an agreement can not be arrived at independently, CCTV surveillance footage can be a great help in identifying the facts and events of the dispute. The quality of the footage is now of a very high standard and so it is far easier to identify suspects and other important details, making it easier to resolve any differences.
We have installed over 350 cameras in the last 6 months
One of our customers decided to have CCTV surveillance installed across three of their sites. Within the education sector, it had become more and more important for them to ensure that the premises, staff and students received an added level of security. So we set to work in advising them, then supplying and installing a comprehensive system of IP cameras and NVR. For more details of this and other CCTV installations we have carried out, click here.
What our customers have said about our work
"Protech have completed full CCTV installations in 3 of our schools within the Compass Group over the last 6 months. The standard has been extremely high and the delivery of the installations have been very professional. The engineers were flexible and accommodating to our needs, especially during the COVID-19 restrictions. We can't recommend their services enough."
(Vishal Ladha, The Compass Group)
"Protech Solutions were very professional in carrying out our CCTV installation last week.  They were very knowledgeable and advised us on the best solution for us.  We are very happy with their work and would not hesitate to use them for any future requirements we might have. We are very happy with their work."
(Nick Aristodimu, Edmonton High School)
If you have any questions about any of the above or would like to discuss how a CCTV surveillance system could benefit your business or organisation, please click below.
Alternatively please call on 01923 235 377
< BACK TO NEWS OVERVIEW