Over 350 CCTV cameras installed
Since the beginning of lockdown, over 350 CCTV cameras have been installed by Protech Solutions across 6 sites including schools and business premises. We have installed more CCTV cameras than any of our other products and services.
CCTV has become somewhat of a priority for many of our customers, owing to the limited use of many buildings, while staff are working more from home. We found that many schools wanted to increase security of their property while the students were away as it was the most optimal time to have the installations done from a health and safety perspective.
So, here a a few of the solutions we have installed over the last 6 months;
6 x Hikvision Fixed Bullet CCTV Camera with Built-in Speaker & Strobe Light Alarm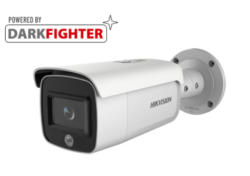 This business site required increased security while staff were on furlough or working from home. We fulfilled this need by supplying and installing a Hikvision 4MP IR CCTV camera solution for vital areas of the building. The solution included 6 x 4mp 2.8mm fixed lens IP CCTV cameras.
The cameras have been set to motion sense and have a built in loud speaker and strobe alarm (both of which can be disabled). The cameras have 10 built in vocal recordings to choose from.
The CCTV cameras have been run back via Cat5e to an 8 channel 4TB NVR (Network Video Recorder)
45 CCTV camera solution and a 64 channel NVR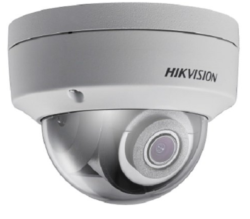 This school required a full CCTV solution across it's very large grounds. CCTV cameras were installed at 45 locations across the site and included;
22 6MP 2.8mm Fixed lens Dome CCTV Cameras for wide angle ceiling mounting; 19 x Fixed lens Bullet cameras for wide angle wall mounting; 3 x 6MP 4mm Fixed lens Bullet cameras for wall mounting; 1 x 4MP 4.7-9.4mm motorised lens Dark Fighter bullet camera for varifocal wall mounting and 1 x 64 channel NVR.
We supplied and installed all the Cat5e cabling required for the cameras, which included 45 new Cat5e network cables. A new Atlona HDMI over Cat5e TX/RX unit was installed to push an HDMI signal from the NVR, to the existing wall mounted monitor and is being used to monitor essential cameras.
Hikvision CCTV solution comprising of 110 new IP CCTV Cameras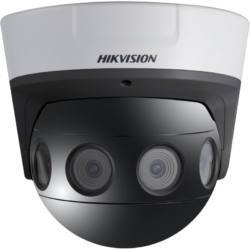 We carried out the supply and installation of a Hikvision CCTV solution throughout the School, including a total of 110 new IP cameras. A total of 76 x 6 megapixel (mp) 2.8 or 4mm lens dome cameras were installed and we re-used and re-positioned the 53 existing cat5e network cables. 23 new cat5e network cables were run from various camera locations to the nearest network cabinet where they were terminated on new or pre-existing patch panels.
Externally we installed 34 x new cameras – 26 x 6mp 2.8 or 4mm bullet cameras; 3 x 6mp 2.8 – 12mm varifocal bullet cameras for a slightly longer throw and the 2 cameras at the main front gates are 4mp 4.7 – 94mm varifocal for even longer throw. The 3 outdoor areas have been covered by 3 x 8mp Panovu cameras, these cameras have 4 x 2mp 4mm lenses each and can give either 1 x 180-degree image or 4 separate images.
All external cameras with the exception of the Panovu have been run in external grade Cat5e cable across the rooves and catenary wires where needed. The Panovu cameras have been mounted at high level on the steel fence posts, which have been fed with external grade Cat5e in black 20mm conduit fixed along the top of the fence line from the PE container. The container has been housed in a new 6u 550mm deep network cabinet and new Netgear 16 port PoE gig switch. A new Ubiquiti 1 gig wireless bridge has been installed between the main building and the container with clear line of site, to ensure the connection is good.
We also supplied and installed a Paxton Net2 video entry VR Panel with rain hood to replace the existing standalone analogue units at both the pedestrian and vehicle gates. The existing network cables have been used to put the new ACU's on the school's network. New Cat5e cable has been pulled in using the existing reader cable as draw wires.
We have carried out multiple installations of CCTV solutions, similar to those above.
"Protech have completed full CCTV installations in 3 of our schools within the Compass Group over the last 6 months. The standard has been extremely high and the delivery of the installations have been very professional. The engineers were flexible and accommodating to our needs, especially during the COVID-19 restrictions. We can't recommend their services enough."
(Vishal Ladha, The Compass Group)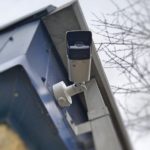 If you would like to find out how we can improve the security of your premises, we would be happy to come and carry out a free site survey. All of our solutions are completely unique and entirely bespoke to your premises, needs and budget constraints.
For a 20 camera solution, the site survey will take approximately one hour. Alternatively, please do contact one of our experienced team on 01923 235 377 will be happy to help you with any of your queries.
< BACK TO CASE STUDIES