Venue Audio Visual Complete Installation
Venue Audio Visual Installation – A brief background
This new golf entertainment company heard how we had helped a major competitor with their venue audio visual and CCTV technology and asked us to provide them with a similar solution. The venue was being built from scratch so we had to work with and around various other trades in order to get the job done.
Over a 6 week period, we worked closely with the Centre Manager and the construction team to bring the facilities to life. We supplied and installed various elements of venue audio visual technology. Keep reading to find out more.
3.2m / 146″ Diagonal Video Wall
With 9 x 55" LG high quality video wall screens, this video wall made up the centre piece of the venue audio visual solution we provided.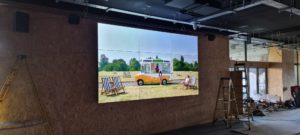 This solution boasts built-in video wall configuration for direct input of video source. It is designed for 24/7 usage.
Video Distribution
We supplied and installed a HD Base-T distribution solution comprising of an Atlona 16x16 HD Base-T Matrix. We installed this in the spare space of a free issue network cabinet within the server room. We took inputs from Sky boxes, as well as a marketing PC and other video sources within the server room.
The signal to each screen are now received as follows:
• Duck Pin Bowling – 5 x screens split between 2 video zones via 2 x 4-way HDMI distribution amplifiers
• Staff Room, Reception, Cafe – we installed 1 screen with a direct feed from the Matrix in each area
• Bar/Restaurant – 8 x TVs split between 2 video zones via 2 x 4-way HDMI distribution amplifiers
• Ground Floor and Lower Ground Floor Bays – 28 screens in each area with a direct feed from the Matrix and split via HD Base-T and 4 x 8-way HDMI distribution amplifiers
• Sports Bar – 19 screens and a Video wall split between the remaining 6 video zones via 6 x 4-way HDMI distribution amplifiers
Reception Video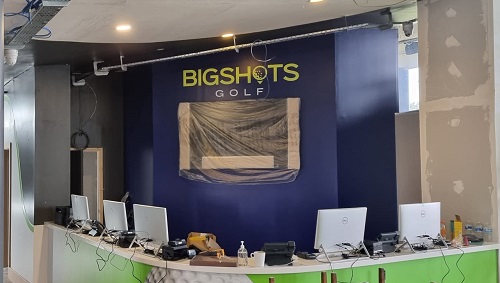 We supplied and installed 1 x 75″ Sony 4K Ultra bright 620 cd/m2 commercial display unit (1.66m width or 75″ diagonal).
We recommended this solution, mainly because of it's 4K image resolution, very high brightness and contrast and ease of creating digital signage.
Zoned Audio
Sound is obviously a key aspect of an entertainment venue and is the very thing that brought this venue audio visual solution to life.
We installed an 8-zone audio solution with 100v line audio in most areas. Over 70 speakers were installed in total, providing background music, tannoy and TV audio. However, in the Sports Bar area, we included an additional sound reinforcement system comprising of 4 larger loudspeakers.
Each audio zone is controllable within the zone itself via a wall mounted source/volume control units, which have been mounted away from the general public.
Hikvision CCTV
Originally, another company was booked in to install the CCTV, however they were unable to fulfil their commitment so we stepped in to help.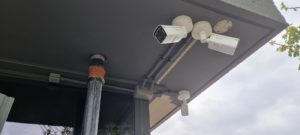 The venue had only 3 weeks remaining before open day and the CCTV was an essential element of the project for licencing reasons. Without it, the venue would have been prevented from opening.
So we prioritised completing the CCTV installation above everything else and managed to complete the project on schedule.
Overall, our engineers supplied and installed a total of 87 4MP IP cameras. We cabled all cameras with Cat6 from the Server room, where we supplied 2 x Ubiquiti US-48-500W 48 port PoE switch.
We also ran Cat6 link cables between the following locations;
1. NVR (Server room) – Intruder Alarm panel behind reception
2. Network cabinet (Server room) – Intruder Alarm panel behind reception
3. Network cabinet (Server room) – Fire Alarm panel in the Lobby
A glowing review from a very happy customer!
Hi Paul, I'd just like to say a big thank you to you and your team.  Exceptional work, above and beyond. It's been a pleasure working with you on a project that has been difficult at times.  The works you, Rob and team did to aid us that were nothing to do with your piece of the project was a massive help to us and it's much appreciated. We look forward to working with you again in the new year.

Colin Crawford
Find out how we can help you with your next venue audio visual project
If you are planning a new project and would like some help and guidance to bring it together, simply contact us through the link below or give us a call on 01923 235 377. We would be delighted to help you to improve your school facilities.
< BACK TO CASE STUDIES