Paxton Access Control and Gate Automation
The Client:
St Theresa's Catholic Primary School is a larger than average-sized primary school, in Harrow.
The Brief:
The school approached us with a view to securing the school with a new fire door as well as a Paxton Net2 access control to the new doors and the existing double doors near the hall. They also requested a new Paxton Net2 access control solution to the front vehicle gate.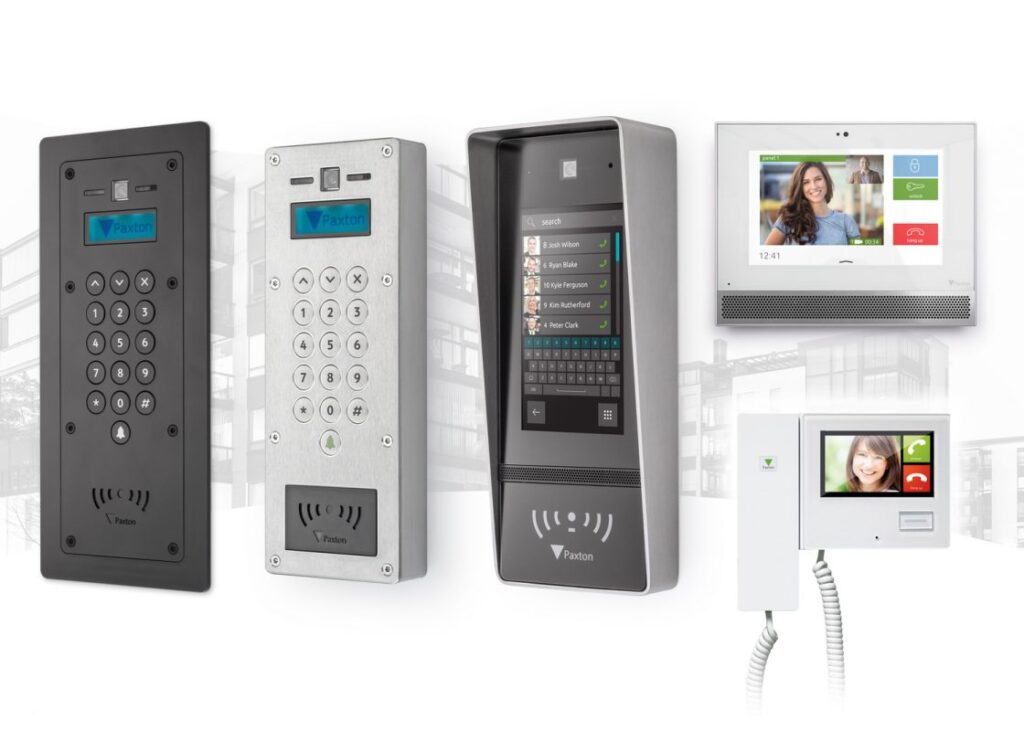 The Solution:

Fire doors
We started by installing a new set of fire rated timber double doors and frame in the corridor to the left of the Reception area. These fire rated, quarter glazed and fitted with push panels. They were finished in the colour of their choice.
We also installed a double Maglock to the top of each door with a P50 Proximity reader on entry and E50 Exit Button with re settable break-glass on exit.
Sign-in systems

We went on to mount a Net2 Access Control unit with plastic housing at high level, local to the door. New and existing containment, colour-coded Cat5e connections to the nearest network cabinet were also installed. A new fused un-switched spur was installed at high level near the Paxton control unit and was run from the nearest fuse board.
The Paxton Net2 software was installed on a PC of their choice, from where we also installed a Desktop card reader. This is used for assigning cards/fobs to doors.
Gate Automation
Re-positioning fence post which is located next to the RH gate.
Supplying and welding No 2 extended gate hooks/hinges as the existing ones were short and did not comply with new underground automation
1 x double swing gate underground automation kit – 2 motor boxes, 2 motors, 1 control unit, 1 pair of safety photocells, 1 receiver and 2 transmitters
1 x extra pair of safety photocells
2 x galvanised, painted blue beam posts
6 x resistive hard-wired safety edges
1 x exit pressure pad
1 x detector
1 x maglock, 12v dc relay and 12vdc power supply
1 x fireman switch (essential)
1 x enclosure to fit gate controls
Cabling
We fitted the gate with an Intercom mounting post on the street side for vehicle access, which now houses a new Vandal resistant video Entry unit with weather-resistant hood and long-range proximity reader. An underground sensor was installed under the drive for sensing vehicles on exit, allowing the gate to be opened.
3 x Paxton touch screen Video Entry phones were installed for controllability of the gate.
All power and data cabling was run from the main building to the gate via a trench. To excavate two no tracks across the main access road to allow for gate link and to allow for gate sensors.
Ground Works
Cutting trench and supplying and laying in 100mm flexi conduit. Ground works to make good.
To cut across the top road and excavate a trench to the main building through the garden area.
To remove all Muck away from tarmac areas.
To supply Ducting for trench areas.
To supply new type 1 and sand to compact in trenches and re instate.
To supply and lay 60mm binding coarse and 40mm wearing coarse of tarmac. Edges to be sealed also.
Leaving a clean and tidy site ready for handover.
< BACK TO CASE STUDIES