Interactive Screens installed into 21 primary school classrooms
The customers' requirements for interactive screens when they first came to us
We were approaching the end of a 4-year lease for Promethean ActivPanel interactive screens, which we had in every classroom.
Over the past four years we learned a lot about how we used our interactive screens, so we had a very specific requirement list including, but not limited to:
Bigger screens than the 70″ we had at the time.
Each screen had to have an independent OS. We also required the ability to access Google Drive from this OS, and for the screen to have a media player capable of playing MP3s and MP4s.
The whiteboard software needed to come with a comprehensive suite of tools and ideally accessible from all devices.
An ability to annotate over anything displayed on the screen.
They wanted to be able to mirror the teacher iPad screens. The simpler the solution, the better.
Height adjustable stands for Early Years.
The school's account of how we helped them with their enquiry for interactive screens
Protech Solutions were incredibly professional and helpful at every stage. They were quick to arrange a site-survey and discuss our needs; they then got back to us with two possible solutions. At short notice they were able to arrange video demonstrations of both proposed screens which was incredibly helpful, allowing us to make a more informed decision. They were also able to amend the quote quickly whenever I asked for any changes. Our old lease also ended rather inconveniently during term time, but Protech were able to accommodate a weekend installation to avoid any disruption to school.

IT Manager
The solution we provided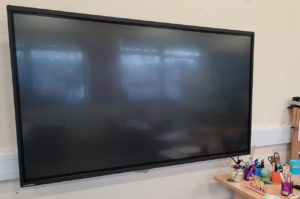 When we first quoted for this project, we recommended two options to the customer, which included the Clevertouch Impact 75"  interactive Screens.
On the customers' request, we arranged demonstrations with both manufacturers. During each demo the customer was able to see for themselves, whether each of the screens could potentially meet their requirements.
Following these demos, the customer decided to purchase the Clevertouch screens, which ticked all of their boxes.
So we supplied and installed Clevertouch interactive screens into 21 classrooms; 18 of which were mounted with a heavy duty wall mount and the remaining 3 with a motorised height adjustable wall mount with low access. These adjustable mounts will be used by the early years classrooms so that both the teachers and the children can interact with the screens.
Interactive screens are not always easy to mount
Sometimes, an installation is not always as straightforward as you might like and this one was no different. On this particular occasion, each of the 21 classrooms had perimeter-3-compartment dado trunking, situated where the screens needed to be mounted. This would have made it impossible to mount it at the height required.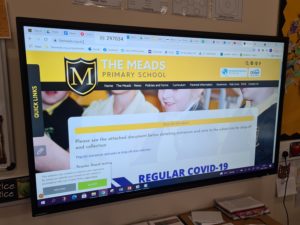 In order to overcome this obstacle, our engineers fixed timber battening behind each screen. We were then able to lift the screen away and over the dado trunking, which made it possible for the screen to be mounted at the correct height.
We took care of all the cabling for each screen as well, including Protech AV Presentation Boxes with HDMI, VGA, USB and 3.5mm Jack and 5m Cable Loom.
Flexible installation times
The school required the works to take place while the children were away, however as this was during term time, this posed a challenge. So, we made the most of the two inset days planned for the school. We actually completed the works over a four-day period, including the weekend. This ensured that the complete installation was achieved with minimal impact on the children's learning.
Another requirement of the school was that they wanted to lease the screens, rather than purchase them outright. We recommended a suitable lease provider (Freedom Tech), who were able to provide them with a bespoke lease option. They secured a term of the lease to allow it to fit to budget and timeframe.
What did the customer say about the installation itself?
The engineers arrived on time ready to get going. They conducted a survey with me to ensure I was happy with their plan for each room then got to work. The guys were quick, efficient and were more than happy to help in any way. They boxed up our old screens for us, helped us remove all the rubbish from site and left all rooms clean and presentable. We couldn't be happier with our new Clevertouch solution. The screens were intuitive enough that the teachers were able to come in and start using them straight away without any extra guidance and I have already had comments about how bright and clear the picture is on the new screen. Thank you for everything!
Find out how we can help you with your next project
If you are planning a new project and would like some help and guidance to bring it together, simply contact us through the link below or give us a call on 01923 235 377. We would be delighted to help you to improve your school facilities.
< BACK TO CASE STUDIES