Interactive Classroom Screens for Primary School
I just wanted to write to you to say a huge thanks for the hard work and effort you put in to getting our new boards installed. As you are aware we were let down at the last moment by another supplier who couldn't deliver or install 11 75" interactive flat panels. With literally a week to go before teachers came back to school, you were able to source boards, get them delivered and installed and all in the nick of time. You and your team could not have been more helpful and professional and the work done was of an incredibly high standard – in fact I just wish we had known that you were reasonably local years before now! So far the staff love the new boards and I have had nothing but compliments about them. Thank you again for your hard work.

Andrew Bryson, Westbrook Hay Prep School
11 classrooms receive new interactive classroom screens
Our customer had originally instructed another supplier to fulfil their requirement for interactive classroom screens in 11 of their classrooms. Unfortunately, the supplier was unable to fulfil their commitment due to staff shortages and the limited availability of stock.
So the school came to us with an urgent request to fulfil their requirement so that the children would return to fully equipped classrooms after their summer break.
They needed 11 new interactive classroom screens. Find out how we supplied and installed these solutions below;
Scope of Works
Two of the classrooms received height adjustable, electric, low access lifts. This enables the teacher to adjust the height of the screen so that smaller children can interact with the technology. Find out more below.
Two rooms received floor to wall support mounts. The reason these rooms required these mounts was because the existing wall was not strong enough to hold the weight of the screen. It was therefore deemed unsafe to install without alternative support. More information can be found further down.
Each installation included an AV presentation box to include HDMI, USB and 3.5mm Audio Jack with 5m loom.
11 x BenQ RE7501 – 75" Interactive Classroom Screen with Flat to Wall Mount and Oktopus Software

BenQ's Interactive Flat Panels (IFP) are optimized to have the friendliest user interface and classroom-ready solutions to support schools by bringing a truly healthy and collaborative learning experience into their classrooms.
The BenQ RE7501 is designed to tap into the dynamic possibilities of the classroom and help teachers build a healthy and learning environment. Not only does RE7501 come with Eye-Care solution, but it is also installed with proficient cloud whiteboard for enhanced class participation and foster collaboration with students beyond locations and platforms. RE7501 is your ultimate interactive display to achieve a touch-enhanced, and connect entire class for a smooth and fun learning experience.
2 x Floor to Wall Support for Screens 65" – 100"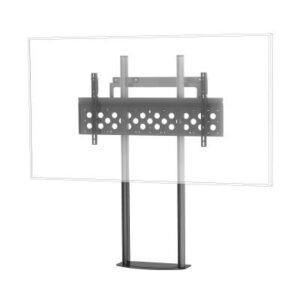 • Suitable for screens between 65″ – 100″ in landscape.
• VESA 200/300/400/600×400/600/800×400/800×600.
• Universal fixing points up to 1200mm x 600mm – Landscape.
• 1815mm maximum screen height (centre of screen fixing points).
• Screen can be mounted at any height on the uprights.
• Up to 16° screen tilt (screen size dependent)
• Tilting arms can be locked vertical
• Screen can be padlocked to prevent unauthorised removal.
• Twin extruded aluminium uprights for simple assembly and adjustment.
• Cable management through uprights.
• Easy-cut trim covers allow simple cable entry & exit points through uprights.
• Wall brace can be adjusted to any height on extrusions
2 x Electric, Height Adjustable Lifts (Low Access) for Screens 65" – 100"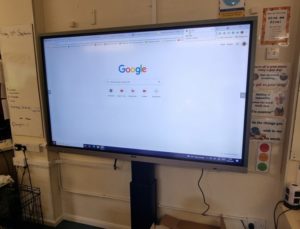 • Electrical height adjustable column, black anodized.
• 500 mm of height adjustment.
• System suitable for mounting on appropriate walls, wall clearance is by default 70mm, 4 levelling feet supplied.
• Display mount for use with up to 86" screens.
• VESA 200 x 200 up to 800 x 600.
• Maximum load approximately 150 kg / 330.7 lbs
Book a FREE Site Survey to discuss your requirements and upgrade your classroom technology today.
< BACK TO CASE STUDIES