Hikvision CCTV solution at Shaftesbury High School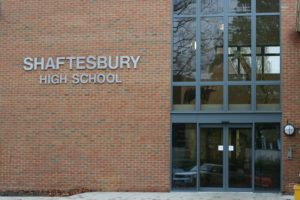 The Client:
Shaftesbury High School is a special needs school located in the London Borough of Harrow with capacity for approximately 160 students, aged between 11 and 19, with learning, emotional, behavioural, autistic, communication, medical, physical, sensory and social needs.
The Brief:
The school wanted to improve the quality of the security of the site with a comprehensive CCTV solution throughout the premises.
Scope of Works:
We carried out the following scope of works for the supply and installation of a Hikvision 6MP CCTV Solution consisting of 29 cameras and a 32 channel NVR as follows:

Cabling
All Cat5e network cabling will run internally where possible. Where this is not possible, the cabling will be housed in conduit. All cabling will run back to the nearest network cabinet where we will install either a 4 port or 16 port 10/100 PoE switch.
Where possible we will ensure that the CCTV is run on redundant Fibre or copper links to stop the CCTV from effecting the schools existing network and vice versa.
A 24" wall mounted monitor will be wall mounted on the wall to monitor essential cameras.
To find out more about how we can help make your premises more secure, just click below;
< BACK TO CASE STUDIES