BenQ Interactive Touchscreen Panels for a Primary School
Overview of the solution;
This primary school in North London, established over two sites approximately 2 miles apart, recently requested our help to upgrade all of the display equipment in their classrooms.
After carrying out an initial site survey, we were able to recommend a solution which would not only meet their budget but also tick all the boxes in terms of ease of use and durability.
We have now installed a total of 22 x RM6501K 65 inch interactive screens across the two sites since August 2019 with another seven planned for the very near future. All installations have been wall-mounted and include an AV presentation plate.
Features of the The BenQ interactive touchscreen;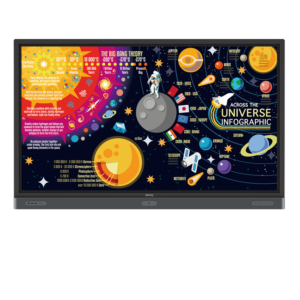 The RM6501K is designed to tap into the dynamic possibilities of the classroom and help teachers build a healthy and engaging learning environment. Not only does the RM6501K come with the Eye-Care solution, but it is also installed with proficient annotation tools for enhanced class participation. RM6501K is your ultimate interactive display to achieve a touch-enhanced, smooth and fun learning experience.
Ultra-Smooth Handwriting Enhances Collaborative Learning
With the continuous advancement of our touchscreen technology, RM6501K offers precise positioning to guarantee a streamlined and ultra-smooth handwriting experience that can effectively enhance class interaction and student participation.
Dual Pens for Simultaneous Collaboration with Two Different Colours
RM6501K comes with dual pens that allow two users to write or draw with different colours simultaneously, making it ideal for lively classroom activities. Additionally, teachers can now create a more engaging learning experience by using two pens to write and highlight with two different colours, eliminating the need to change colours in a traditional classroom scenario.
 Flexible Display of Brush Mode for Creative Education
The advanced touchscreen (IR touch) technology equips RM6501K with the capability of naturally displaying different stroke thickness based on different types of tools used to write or draw on the screen, offering educators and students a more natural writing experience. RM6501K is capable of detecting strokes created with fingers, the IFP stylus, watercolour brush or even pencil. This unique feature makes RM6501K ideal for drawing or artistic creation in art classes.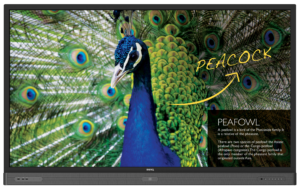 TÜV-Certified Low Blue Light Technology
Blue light emissions from displays may cause adverse health effects such as macular degeneration or disrupted melatonin secretion. BenQ's Low Blue Light technology minimizes blue light exposure and allows for healthier time spent in front of the display, helping you create the best and most comfortable viewing experience for you and your students.
Wireless Solution for Seamless Collaboration
InstaQShare is the software designed for seamless wireless presentation and collaboration during lectures. It allows the smooth streaming of visual, audio files and Full HD quality videos. Users can also mirror content from mobile devices, and invite up to 16 participants for seamless collaboration.
Freeze and Blank
Blank to darken the screen so students can remain focused on teachers' instructions.
Freeze to pause the screen so teachers can capture certain segments from videos or highlight on the screen (through the remote control or hotkey)
Instant Plug and Play
RM6501K can save you from the hassles of complicated setup. Simply connect to a PC via USB and you're all set to deliver compelling IFP touch-enhanced lessons.
To find out more about how these screens can enhance the learning in your classrooms, just click below;
< BACK TO CASE STUDIES