25 Classroom BenQ RM8601K Interactive Panels
We recently installed BenQ RM8601 86inch screens into 25 classrooms at a special needs school in North London to replace their existing outdated 65inch iboards.
The students will now come back to these wonderful new screens, which will hugely enhance their learning!
**We carried out the works during the lockdown period, in accordance with government guidelines. 
What is the RM8601K designed to do?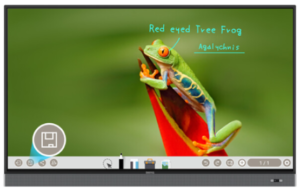 The RM8601K is designed to tap into the dynamic possibilities of the classroom and help teachers build a healthy and engaging learning environment. Not only does the RM8601K come with the Eye-Care solution, but it is also installed with proficient annotation tools for enhanced class participation. RM8601K is your ultimate interactive display to achieve a touch-enhanced, smooth and fun learning experience.
Ultra-Smooth Handwriting Enhances Collaborative Learning
With the continuous advancement of our touchscreen technology, RM8601K offers precise positioning to guarantee a streamlined and ultra-smooth handwriting experience that can effectively enhance class interaction and student participation.
Dual Pens for Simultaneous Collaboration with Two Different Colors
RM8601K comes with dual pens that allow two users to write or draw with different colors simultaneously, making it ideal for lively classroom activities. Additionally, teachers can now create a more engaging learning experience by using two pens to write and highlight with two different colors, eliminating the need to change colors in a traditional classroom scenario.
Flexible Display of Brush Mode for Creative Education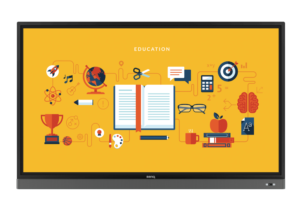 The advanced touchscreen (IR touch) technology equips RM8601K with the capability of naturally displaying different stroke thickness based on different types of tools used to write or draw on the screen, offering educators and students a more natural writing experience. RM8601K is capable of detecting strokes created with fingers, the IFP stylus, watercolor brush or even pencil. This unique feature makes RM8601K ideal for drawing or artistic creation in art classes.
TÜV-Certified Low Blue Light Technology
Blue light emissions from displays may cause adverse health effects such as macular degeneration or disrupted melatonin secretion. BenQ's Low Blue Light technology minimizes blue light exposure and allows for healthier time spent in front of the display, helping you create the best and most comfortable viewing experience for you and your students.
TÜV-Certified Flicker-Free Technology
Flickering, which is the main cause for eye strain and visual fatigue, is the result of rapid change of bright backlight, a common phenomenon in most displays using Pulse Width Modulation (PWM) that turns the backlight on and off quickly in order to control the display's level of backlight brightness. BenQ's Flicker-Free technology is meticulously designed to remove LED backlight flickering while providing a zero-flicker viewing experience. This effectively reduces CVS-related eye problems and alleviates discomfort caused by looking at the screen all day.
Anti-Glare Display
Screen glare can cause reflected images on the screen, making it challenging for students to see, take notes, and remain focused. The RM8601K's anti-glare glass surface can effectively reduce reflections, freeing students from excessive squinting with more le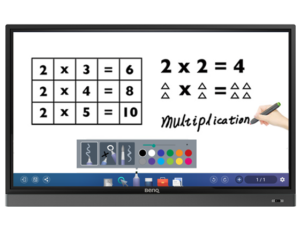 gible text and clearer images, avoiding eye strain and facilitating more effective instruction.
Intelligent Handwriting Recognition
The RM8601K's handwriting recognition feature allows presenters to simultaneously convert written text, numbers, forms, and drawings into legible materials without having to switch modes while effectively facilitating smooth teaching flow.
Floating Tool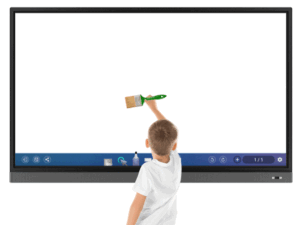 EZWrite 4.1's floating toolbar is compatible with any input source and Android applications. The floating on-screen menu lets you immediately access a range of functions, including screen capture, eraser, pen and whiteboard by placing two fingers on the screen. It helps increase learning efficiency in the classroom.
Access Diverse Files on the Fly. EZWrite 4.0 Lite directly opens a wide range of files, and image files for convenient annotations in productive meetings without the need for external PCs.
Data-to-Go
Save annotations as .pdf or .png files and share them as review materials through QR code, print, USB drive, or IFP's internal memory.
Tool Box
Tool Box is the all-in-one place that offers a wide range of useful teaching tools, including calculator, geometry, and team post to facilitate truly interactive lectures.
Wireless Solution for Seamless Collaboration
InstaQShare is the software designed for seamless wireless presentation and collaboration during lectures. It allows the smooth streaming of visual, audio files and Full HD quality videos. Users can also mirror content from mobile devices, and invite up to 16 participants for seamless collaboration.
*Soft bundled Wi-Fi dongle is required.
Facilitate Teaching Flow with Friendly Design
Front-facing Speakers and External Microphone Compatibility for More Impactful Learning
RM8601K repositions the 20W audio speakers to the front, offering better sound transmission that elevates the level of audiovisual enjoyment during classes. Additionally, RM8601K comes with a Mic-In port that allows teachers to connect external microphones, further facilitating an impactful and effective learning experience for students.
Freeze and Blank
Blank to darken the screen so students can remain focused on teachers' instructions.
Freeze to pause the screen so teachers can capture certain segments from videos or highlight on the screen (through the remote control or hotkey)
Instant Plug and Play
RM8601K can save you from the hassles of complicated setup. Simply connect to a PC via USB and you're all set to deliver compelling IFP touch-enhanced lessons.
< BACK TO CASE STUDIES